Dan Green
The Path
In memory of Sally's studio partner & producer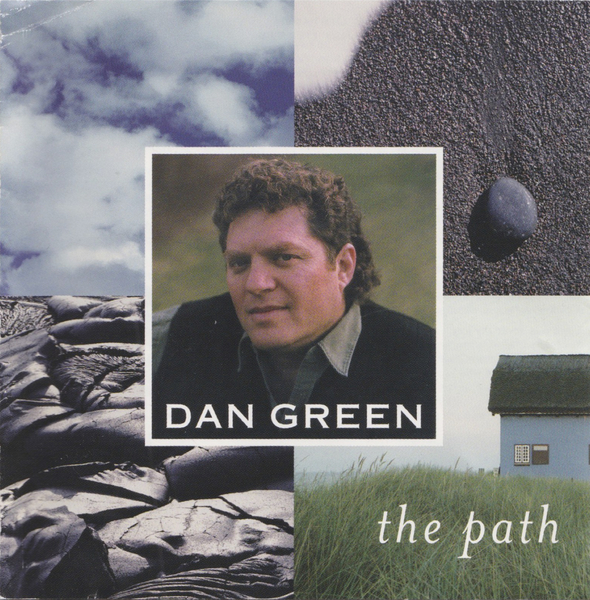 As a brilliantly talented singer/songwriter, producer, multi-instrumentalist, and recording engineer, Dan Green was a studio owner/operator, who made a gazillion musical dreams come true. As a creative, he scored films, composed and produced jingles for radio and TV. He produced Sally Fingerett as well as The Four Bitchin' Babes. At Amerisound, he engineered a plethora of R & B, Rap, and Country artists from all over the US.
Having released his first solo LP (yeah vinyl) in 1977, he never let go of his singer/songwriter ways, and continued to write, perform, and record. This project THE PATH, contains a glorious collection of his songs, and celebrates the great writer and singer that he was.
Dan Green passed away on his 71st birthday on December 28, 2021. He was treasured and adored by thousands of musical artists who chose to bring their recording needs to his studio during the 46 years Amerisound was in business. Since Dan's passing, Amerisound has changed hands and changed its name. Subsequently, his internet presence has been diminished. But here, to keep his legacy alive, we've made his CD available for download. He is missed by all, and the songs on this project are luscious and comforting, as he was in his life. We hope you feel the same. Xoxo Sally Fingerett and daughter EJ Green, The Estate of Dan Green
Liner Notes:
"It seems to me that sooner or later we come to realize that our life experience is a journey, and this journey is all about learning. Each person we meet and each event that enfolds becomes part of the map we draw for meaning in our lives. And the more we learn to see the events as lessons the richer the experience. The songs contained on this recording came from my heart, inspired by the lessons encountered along my way. I sincerely hope that you will find a song or two that might support you on your path. Travel well." —Dan Green
All songs written by Dan Green except
"Storms" by Dan Green & Sally Fingerett
"The Path" by Dan Green & Ronn Price
THE PATH C. 2000 Amerisound Music
CD CREDITS:
PRODUCED BY: Dan Green and Ronn Price
RECORDED AT: Amerisound Studios, Col. OH,
And Omni Sound, Nashville, TN
ENGINEERED BY: Dan Green, Ronn Price, Mark Sullivan
& Mike Hester, at Amerisound, and James Bauer at Omni Sound
MIXED BY: Dan Green w/ Ronn Price, Mark Sullivan at Amerisound,
Assisted by Gary Strauss
MASTERED BY: Dan Green and Mark Sullivan
Special Thanks: To Greg Hankins and Twin Rivers for exquisite guitars.
Kevin Miles at Budget Rent a Car for cool transportation.
Ken Van Dyne Photography Stephanie Henry-Design.
THE PLAYERS:
Dan Green: Acoustic guitar vocals all tracks
Larry Cook: Acoustic and electric guitars
Gary Strauss: Cymbals "Father's Prayer"
Ronn Price: Acoustic guitar "The Path"
"Rollin' With the Dice" Keyboard horns "Storms"
Pat Coil: Keyboards, B3
Tom Roady: Percussion
Gary Lunn:Bass
Steven Brewster: Drums
THE SINGERS:
Ronn Price, Dan Green all tracks
Mimi Rousseau: "Distance" "Holy Ground"
Celeste Friedman: "Holy Ground"
Sally Fingerett: "Storms"
The Milton Ruffin Chorale: "This Moment" "Holy Ground"
DAN SAYS:
My heartfelt gratitude to all the gifted musicians whose efforts made this music come to life. The Nashville Crew: Gary Lunn, Tom Roady, Steven Brewster and Pat Coil. Your creativity and commitment to finding the heart of each song, made the foundation of this CD so easy to feel and hear. Thanks boys! (If you keep this up, who knows, maybe a gig in the Catskills!). To my co-producer and friend Ronn Price. Your talent is only eclipsed by your humility. To Larry Cook, my friend whose skillful guitar playing has graced not only this CD, but so many I have produced for others. To my daughter EJ, for a shining example of creativity. To Sally Fingerett a gifted mom, songwriter and friend. To MR, cat and catalyst, for teaching me to see the music in the dance of life. To Tomar Green, a mother of endless encouragement. To my support system, Carole Davidson, Danya Hallahand, and my dear old friend Joe Waters, who has always given me inspiration to keep writing and singing. To the Bitchin' Babes, Sally Fingerett, Debi Smith, Christine Lavin, Patty Larkin, Julie Gold, and Camille West. Working with such intelligent writers taught me so many subtle lessons about songwriting and production. To Gary Strauss, for standing guard at the Amerisound door, while this recording enfolded and for his musicianship, years of laughs and great discussions. To Mike Hester for support, coaching and lessons from the hood. And to the reverends, Paul Burdick, Jeff Key, Ronnie Diamond and Gary Bivens. You are all men who walk their talk and give unselfishly of yourselves. To Milton Ruffin and his most gifted Chorale, who showed up at my studios-on-cue one of those clearer instances where providence stepped in to help. To JB Bruck for the example of dogged determinism and to Brad Circonne whose creative input is the final galvanizing guidance I needed to manifest this work. Thank you all. To the following writers and teachers whose writing have helped me to find my own inspiration. Jon Kabat-Zinn, the late Trungpa Chogyam, Jack Kornfield, Sylvia Boorstein, Cheri Huber, Caroline Myss, Penon Chodron, and Dr. Wayne Dyer. My brother David Green who taught me to meditate mindfully. And to all my friends and clients at Amerisound Studios, where I labor and learn from you all. And to the one whose heart is in us all. Namaste.