THE MENTAL YENTL®
Songs and Stories from a Lifelong Student of Crazy.
"It's been said I look like a woman, I've heard that from time to time,
It's quite a shock when they discover, I'm a nine year old with a credit line."
When I turned 50, I stopped minimizing my talents and achievements, as well as my "isms" and demons. As I began to accept myself, AS IS, I also began to celebrate the vivid characters in my life, no matter how wild and quirky, manic and marvelous we might be.
This is our story.
The Book
MENTAL YENTL, STORIES FROM A LIFELONG STUDENT OF CRAZY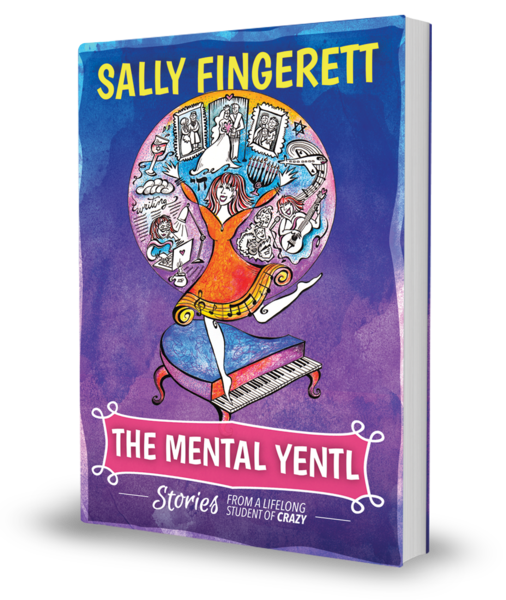 "I come from a long line….of medicated women"
... And so begins these 380 hilarious and heartwarming pages, as Sally documents and celebrates the insanity of the ordinary and the angst of the extraordinary.
From her early beginnings on Chicago's Southside, to her years as a solo artist, and a founding and touring member of that marvelous musical comedy theatre troupe, THE FOUR BITCHIN' BABES, Sally chronicles her comical, goof-and flaw-filled life—as a musician, mother, step mother, M&M-addicted mother of three, and care-giving-designated, daughter of a Jewish Manic Depressive mother (trifecta!)
Yet, with love and compassion, Sally honors those medicated Matriarchs, whose legacy included great boobs, big thighs, wack-a-doodle DNA, but most importantly, devotion and concern for family. This is their story.
You'll find forty essays & stories, family (secret!) recipes, and thirty-three song lyrics, as each song lyric follows the story that motivated its' creation.
Stories such as …
"Greetings From the Land of Lime Jello and Really Bad Sanka"
"What Married Women Want To Hear"
"My Medicated Women"
"J-Date and the Internet Dating Pool"
"What's Up With Jewish Composers and Christmas Hits?" & more, read samples.
Of course, Sally includes a few twisted family recipes like:
"Bubbe Chicken your Grandmother Wishes She Could Make"
"Naomi Garfinkel's Mandel Bread, So Good You'll Get Invited to Every Party, They'll Want You Should Bring It."
"Naomi Garfinkel's Sweet Dairy Kugle, So Good You'll Get Invited to Every Party, They'll Want You Should Bring It."
---
---
REVIEWS FROM AMAZON:
thanks to this funny and authentic book
"You know that glow you feel after spending an afternoon chatting with a girlfriend over a cup of tea (or a glass of wine)? You've laughed out loud, you've discussed foibles and heartaches, you've bragged a little about your kids, compared notes on the state of your marriage? And you come away refreshed and somehow newly insightful about your life and your world - replenished and ready to begin anew? That's what reading the Mental Yentl gives you! Sally Fingerett has a gift for focusing on the details of her life and her experience and somehow transforming those experiences into a more universal view of the cycles of a woman's life - as a daughter, a mother, a wife, a worker, a friend. We should all be lucky enough to spend an afternoon with Fingerett. Wait...thanks to this funny and authentic book, we can! Lucky us!!" – Donna Verified Purchase
---
funny, poignant
"Clever, funny, poignant, and well written. A very enjoyable journey. Highly recommend!" – PiCo Verified Purchase
---
Great book
"Great book! Sally has a wonderful way with words and attention to the hilarious, as well as the poignant, moments that our lives are so full of. One minute I was laughing and the next I was crying... it was like a good therapy session! A great book for the in between moments when you need a lift." – Joy Verified Purchase
---
Wanna laugh out loud and then cry and then laugh again!?
"As I read these stories, I cried and then laughed out loud, and cried again and laughed again. Ms. Fingerett has a way of creating images that drew me in and I became an observer standing the sidewalk watching Grandpa Sam, sitting at the Passover table and noticing the china, and sitting in the audience of a great musician, wanting her to be my friend. The matched songs on the CD have a wonderful spirit unto themselves. They create the colorful texture in-between the writings. This book is a great read in pieces or out of order or with the accompanying music -- It won't matter how or where you read it -- it WILL, however, matter if you don't." – rc Verified Purchase
The CDs (34 songs on 2 discs)
MENTAL YENTL, SONGS FROM A LIFELONG STUDENT OF CRAZY.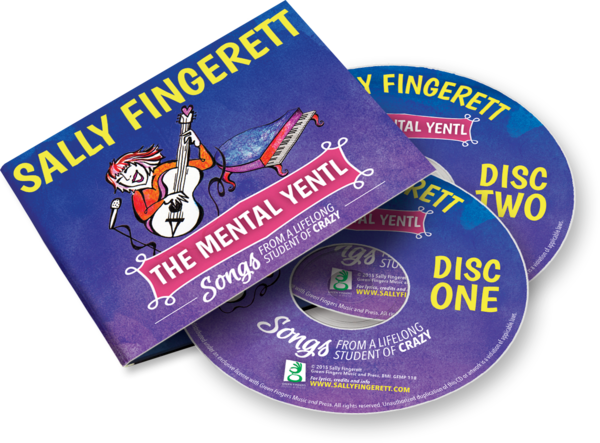 You can think of Sally's Double Disc CD set, as the sound track to her new book or, on its own, as a gorgeously inspirational and melodically epic tour de force.
A maverick and accomplished pianist and guitar player, Sally is a powerhouse vocalist, whose career defining anthology features newly-recorded versions of all-time favorites, such as HOME IS WHERE THE HEART IS, & DON'T MESS WITH ME, I'M SOMEBODY'S MOTHER, BOY ON WHEELS, as well as her most requested Four Bitchin' Babes contributions such as CHOCOLATE, DO ME, SHOW ME, BUY ME, LOVE ME, GIVE ME, FACES ON MY WALL, TAKE ME OUT TO EAT, JEWISH KID BORN ON CHRISTMAS DAY, and ONE EASY DAY. Taking the opportunity to throw in something special, Sally includes a spectacular, lilting and uplifting piano instrumental, YIDDISHE MAMA/HATIKVAH.
From her delicate duet with pal Janis Ian on LITTLE GIRL PLEASE WAIT, to the moving song of gratitude written with folk legend, Tom Paxton PRIVATE PLENTY, this bucket list collection of songs, is the perfect companion to her book of stories, or just a playlist of original music, by a contemporary female singer songwriter, who was a student of crazy!
Show Vids and Pics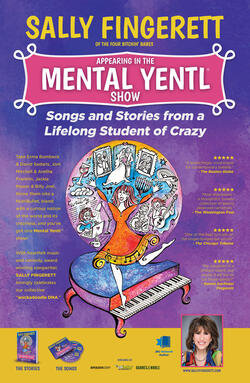 Take Erma Bombeck & David Sedaris, Joni Mitchell & Aretha Franklin, Jackie Mason & Billy Joel, toss them into a Nutri-Bullit, microwave on high to realign the molecular structure, sprinkle in a curious notion of the world and its craziness, add a fixed Jewish nose, throw in a guitar and piano, and you've got one Mental Yentl®!
Whether it's a full blown concert of songs and stories, or an evening of readings and discussions, Sally celebrates the humorous wackadoodle in our daily lives.
Some of the following videos are live performances from Sally's Mental Yentl Show, and live Four Bitchin' Babe shows. Then there are the Deirdre Flint Babe produced videos of Sally songs, (Boy on Wheels, Chocolate, The Dreidel Do Over) and the hysterical very true to life animated peek at "Babes backstage!"
---
The Dreidel Do Over Cartoon
Jewish Kid Born on Christmas Day Talking Blues
Home Is Where the Heart Is
Don't Mess with Me, I'm Sombody's Mother
Four Bitchin' Babes Backstage