SINGER-SONGWRITER,
PUBLISHED AUTHOR
A TOURING AND RECORDING ARTIST,
& A FOUNDING MEMBER OF THE FOUR BITCHIN' BABES,
SETTLES INTO A NEW COVID CAREER. . . TEXTILE ARTIST!
WELCOME TO SALLY'S NEW WEBSITE 2020!
As an award winning singer-songwriter/composer, with six solo CD projects, Sally has been recording and touring, as a founding member of the hit musical-comedy group "The Four Bitchin' Babes" for over 30 years.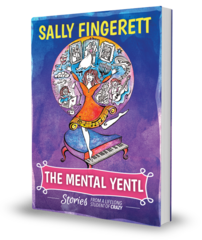 And, with much to say from those 30 years as a performing artist, wife, mother, and designated daughter to aging parents, Sally has published a heartfelt and hilarious collection of essays in
THE MENTAL YENTL, "STORIES" FROM A LIFELONG STUDENT OF CRAZY
. These real life stories and observations from her skewed and nonsensical viewfinder, illustrate the inspirations behind her most popular and requested songs, connecting life to it's art, as song lyrics follow their respective story.
---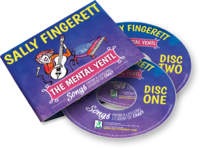 And now, this Double-Disc 34 song anthology, showcases the highlights of Sally's career-defining catalogue of songs. Along with never released tunes, she's chosen to meld together her solo work, with her most requested Four Bitchin' Babes pieces, re-recording, remixing, and remastering for
THE MENTAL YENTL, "SONGS" FROM A LIFELONG STUDENT OF CRAZY
. These songs are the sound tracks to the stories in her book.
And then COVID-19.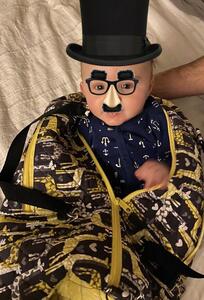 Hopefully performing live shows will return. But for now, Sally has settled in at home, to write more stories, noodle on her piano, guitar and bass, cook real meals, and spend time experimenting with her lifelong passion--sewing. From making masks, to creating wackadoodle, wearable, and functional art, Sally is channeling her immigrant Grandma Anna, who arrived in the US in 1915, and went strait to work as a seamstress for Hart Schaffner and Marx. The Fingerett DNA has now come full circle.
Check out Sally's creations!!!
You'll find Sally's book and CDs, and now her SHEET MUSIC! Also, she's made available some Babe's titles currently in stock. Be assured, that your identity and security are of utmost importance. Thank you.