Show Vids and Pics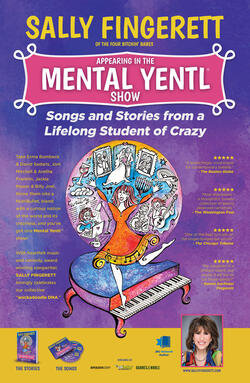 Take Erma Bombeck & David Sedaris, Joni Mitchell & Aretha Franklin, Jackie Mason & Billy Joel, toss them into a Nutri-Bullit, microwave on high to realign the molecular structure, sprinkle in a curious notion of the world and its craziness, add a fixed Jewish nose, throw in a guitar and piano, and you've got one Mental Yentl®!
Whether it's a full blown concert of songs and stories, or an evening of readings and discussions, Sally celebrates the humorous wackadoodle in our daily lives.
Some of the following videos are live performances from Sally's Mental Yentl Show, and live Four Bitchin' Babe shows. Then there are the Deirdre Flint Babe produced videos of Sally songs, (Boy on Wheels, Chocolate, The Dreidel Do Over) and the hysterical very true to life animated peek at "Babes backstage!"
---
The Dreidel Do Over Cartoon
Jewish Kid Born on Christmas Day Talking Blues
Home Is Where the Heart Is
Don't Mess with Me, I'm Sombody's Mother
Four Bitchin' Babes Backstage