Four Bitchin' Babes
HORMONAL IMBALANCE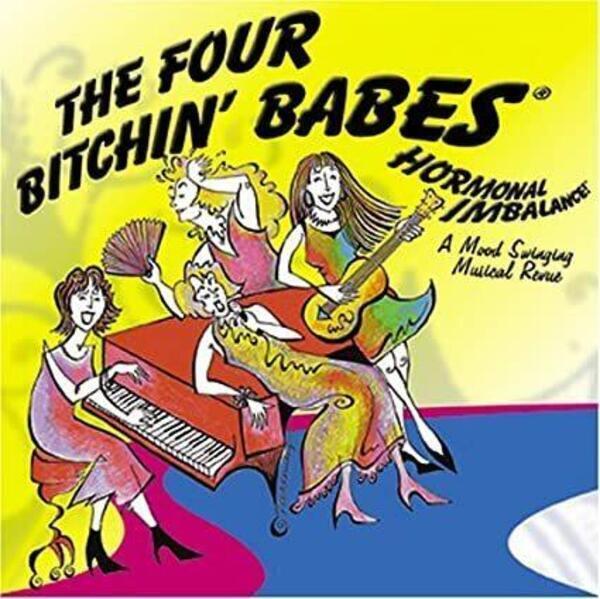 2006
With Sally Fingerett, Debi Smith, Nancy Moran, & Deirdre Flint
Every few years the Babes® sequester themselves in a recording studio, gab and yak, play and sing, laugh until they cry, and of course eat too "musician-y junk food," and for their lucky number 7 CD, they have found a stellar crew ofbrilliant engineers and musicians at Amerisound Studios, in Columbus Ohio.
For this new chapter, longtime Babes Sally Fingerett and Debi Smith would become Hem and Haw Productions and invite two new cast members onboard; Philadelphia's comic goddess and fabulously funny songwriter, Deirdre Flint, who showcases her wry wit and adorable charm with Cheerleader, Boob Fairy, and the ever so smooth Taxidermal Therapy. Nashville's studio singing, magazine editing, songwriter - Nancy Moran strikes a super hero pose and lets loose on Honestly, while soulfully wishing us all Unconditional Love. She also does a straight up killer version of the Camille West/Scott Wodicka hit Viagra in the Waters.
Sally sings the the age appropriate anthemic Hot Flash (a song she co-wrote with Debi!) and then cools off to plead for One Easy Day. Debi Smith takes her 5 octave range out for a stroll with Walk The Walk, then pays tribute to her mom with Just Ask Your Doctor, a hilarious diatribe of pharmaceutical warnings that Debi co-wrote with her mother Vivian Smith. This new project wouldn't be complete without Debi's Babe hit Pass it On an ode to her son featuring her magnificent Bodhran (Irish drum). The Babes begin a new tour season, with new members, and new tunes reflecting their new attitudes towards this new age. Join them as they swing from mood to mood, with their heavenly "Girl Group" harmonies, as this Female Folkestra takes you on a musical ride through the winding road of acceptance, laughing all the way!